Torlon applications are boundless considering the myriad combination of properties the material possesses.
Resistance to:
Chemicals
Corrosion
Creep
Fatigue
High Temperature
Light Weight
High Strength
Compressive
Modulus
Rigidity
Tensile
Super Stability
Thermal to 275°C
Dimensional
Machines like steel
Moldable Complex Geometries
Low coefficient of friction
Lubricated or Non-lubricated
Conformability (non-leaking)
Noise reduction
Non-conductive Grades
Semi-conductive Grades
Grades referenced on this page are injection moldable. For extrusion grades go to: Solvay Specialty Polymers
Torlon grades 4275, 4301 and 4435 are RoHS Compliant.
Strength Grades
30% glass-fiber reinforced, offers high strength and modulus (10800 MPa: ASTM D1708). Thermal expansion characteristics similar to aluminum for excellent dimensional stability. These mechanical properties make 5030 ideal for metal replacement. Outstanding electrical properties make it ideal for connectors, switches and relays.
30% carbon-fiber reinforced, offers high strength and modulus (22300 MPa: ASTM D1708), exceptional creep resistance and good fatigue resistance. Thermal expansion characteristics similar to steel allow for close tolerance machining. 7130 is semi conductive and has a water absorption rate of 0.26% (ASTM D570). Ideal for metal replacement, sliding vanes, aerospace parts, impellers etc.
5030 and 7130 are RoHS Compliant.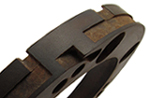 Tight Machining Tolerances
Complex Geometries
Friction Grades
Non-lubricated Applications
Designed to provide exceptionally low wear performance in non-lubricated applications even at high pressures and velocities, 4435 is perfect when lubrication is not possible or desired, or as a fail safe against loss of lubrication in lubricated systems.
Robust flexural and compressive stiffness from cryogenic to elevated temperatures allows for use in demanding load-bearing applications. A low coefficient of thermal expansion provides the ability to meet close tolerances over a wide temperature range, and allows the injection molding of complex geometries. Due to its electrically dissipative property, this grade may also be considered for anti-static functions.
Lubricated Applications
Possessing similar features to 4435, Torlon 4645 is designed to provide low wear performance in lubricated environments.
Combine low coefficients of friction with high tensile strength and modulus to produce superior wear resistance, while maintaining mechanical properties, in high velocity and pressure conditions.: ideal for thrust washers, spline liners, valve seats, bushings, bearings, wear rings, cams, etc.
For specifics on grades 4275 and 4301 click on links below.