Accountability
With in-house engineering, tool making, injection molding, and post molding operations, China Array is fully accountable to its customers. The company controls the manufacturing process from original design through finished product to insure comprehensive quality control and intellectual property protection.

Traceability
Since China Array specializes in high performance polymers, its suppliers are the premier resin companies in the world: material certifications provided for each PO. Every subsequent step in the manufacturing process is also fully documented.
Feedback
From engineering review to 3D modeling to prototypes to tooling to production, the feedback loop between China Array and its customer is critical and continues for the life of the project.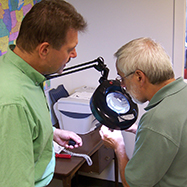 Intellectual Property Protection
China Array Plastics LLC is a US company. It executes contracts and Nondisclosure Agreements under US law, which cover its injection molding facility in Wuhan: a 100% owned subsidiary.
While no company can guarantee 100% IP protection, China Array by understanding the issues involved, being headquartered in the US, maintaining internal fire-walls, getting good legal advice, and having a geographic buffer from China's coastal areas, can assure it customers with a relatively high level of certainty that their intellectual property is being protected.
---
Management Commitment to Quality
China Array's upper management has a unique blend of quality control experience specific to both China and plastics.
Russell Johnson, President, has contract manufactured industrial components in China since 1980: arguably the most difficult QC assignment anywhere over the last three decades. Li Qinren, China Array's GM, was formerly, Chief Engineer for the China State Shipbuilding Corporation's (CSSC) Marine Instrumentation Division with full QC responsibility.
Carl Olson, VP Sales, formerly an Applications Development Engineer at GE Plastics (now Sabic Innovative Plastics) for 23 years, Olson helped to develop many of the HPTP's in the forefront of the industry today. Subsequently, he was a manager at Plastics Technologies Laboratory Inc. (PTLI), a lab dedicated to testing plastics and elastomers. William Brassard, VP Engineering, has spent a 30 year career in QC, ISO and engineering management.