From prototypes to SPI Class 101, multi cavity, fully automated tools China Array builds molds to meet customers' exacting standards.
Molds for HPP's
The components and workmanship of China Array's molds are geared to high performance polymer (HPP) molding, as are the design of cooling channels, gates, vents, core pulls, automation and other aspects of mold construction.
Mold Maintenance
Molds kept on China Array's premise are maintained and periodically overhauled throughout the mold's productive life.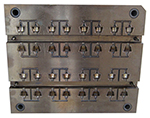 Multi-Cavity Molds
China Array builds molds in increments of 1, 2, 4, 8, 16, 32 and 64 cavities to match production requirements.
Balanced design and uniformity of cavities are critical to multi-cavity tooling. Precision machining and meticulous attention to detail create multiple cavities that produce virtually identical finished parts.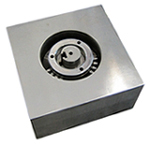 Insert Molds
Over molding inserts adds another layer of complexity to tooling and processing. The polymer must pack out properly, but also flow around the insert to securely embed it in the par. China Array specializes in insert molding HPP's.

Mold Flow Analysis
Pro E and SolidWorks each have mold flow modules that simulate how a specific material will flow and pack out in a prospective mold: invaluable for designing gates and other features, or evaluating geometries, such as undercuts.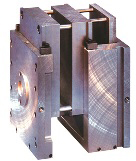 Master Unit Die (MUD) Molds
Also known as quick change molds, MUD frames accept interchangeable insert molds that can be swapped out while the frame is in the molding machine.
Cuts change over times, reduced purging, lowers tooling costs and increases design flexibility. Suitable for prototypes, low and high production.

Quality & Precision
State-of-the-art CNC and EDM machine centers combined with precision measuring instruments enables China Array to produce complex, sophisticated molds to tight tolerances.
---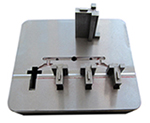 Prototype Molds
Making a mold for prototypes has several advantages over Rapid Prototyping a single part. First, the mold can produce up to 10,000 pieces for large scale in field testing: and the parts coming out of the mold are made from the same material the the actual production model will be made from, which is not always the case with Rapid Prototypes. Second, by actually having a mold built, the customer gains a wealth of information on mold design and the injection molding processing, which can be invaluable when taking manufacturability into account in product design.