Hydrolytically stable and able to withstand prolonged exposure to water, chemicals and extreme temperatures (-40°C to 204°C) without degrading, polysulfone is an excellent choice for single use medical applications.
Ergonomics, light weight and portability are the new hallmarks of medical devices. Sulfones deliver these characteristics plus the vital properties of hydrolytic stability, sterilability, flexure and impact strength, chemical and fatigue resistance and high gloss appearance.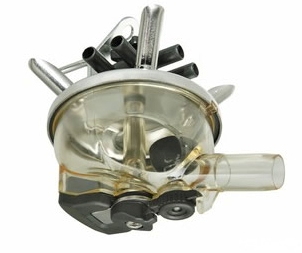 Rigidity and dimensional integrity allow integration with steel components in assemblies for harsh environments. Polyphenylsulfone's impact and chemical resistance extends the life of dairy components.
Plumbing
FDA compliant, polysulfone stands up to the rigors of plumbing applications with excellent hydrolytic and dimensional stability, toughness, and creep resistance: an excellent cost competitive replacement for brass.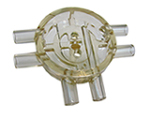 Biotechnology
Biomedical multi-chambered manifolds require complex geometries, Sterilizability, chemical resistance, transparency and toughness: all core features of Polysulfones.
Lab Equipment
Lasting clarity: Sulfones, amorphous thermoplastics, are tougher, stronger and more impact resistant than other transparent plastics, properties which are retained over time.
---
Dental Devices
Steam autoclaving is a primary sterilization method for medical and dental devices. Temperatures typically range between 121°C to 134°C for 15 to 30 minutes.
Solvay Specialty Polymer's Radel PPSU is unique among amorphous thermoplastics in its ability to withstand more than 1,000 cycles of steam sterilization without any significant loss of properties.